"El espejo humano" forma parte de la Sección Oficial del 14th Annual The Big MINI Media Festival que se desarrolla del 13 al 14 de Noviembre en Brooklyn, proyectandosé en el campus de Long Island University's Brooklyn Campus, en la sala Spike Lee Screening Room.


The Big MINI Media Festival (a.k.a. BMM Fest) is a two-day event hosted by the Media Arts Department of Long Island University's Brooklyn Campus. The festival recognizes and awards nine categories in animation, short narrative, documentary and experimental films created with the MiniDV, HDV, and other digital formats. Short- and feature-length screenplays are also in competition and rewarded.
14th Annual Celebration of Indie Film/Video in Brooklyn
With our thirteenth media festival, we will celebrate over a decade of the Big MINI Media Festival and as always, continue to encourage diversity and unique storytelling in all genres and styles. We strive to deliver an exciting array of independent video and screenplays with insightful subjects and moving stories.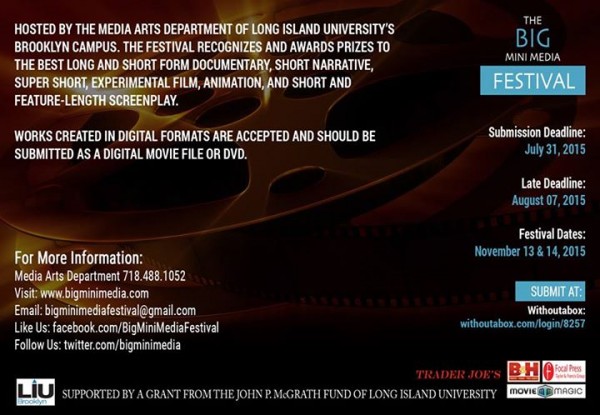 2015 BMM Festival Schedule
Festival Dates/Times:
Friday, November 13 .2015
Saturday, November 14, 2015
Festival Location: LIU Brooklyn Campus, Spike Lee Screening Room
Nine Award Categories:
BEST Short Narrative
BEST Short Documentary (30 minutes or less)
BEST Feature-Length Documentary
BEST Experimental
BEST Animation
BEST Super Short Film (1 minute or less)
BEST Short Screenplay (30 pages or less)
BEST Feature-Length Screenplay (60 pages or more)
EL ESPEJO HUMANO
TRAILER
Basado en una historia real. Una joven de 17 años con problemas de sociabilidad vive sin apenas contacto con el exterior, encerrada en casa contempla cada día las crueldades anunciadas en las noticias y su mente se va acercando cada vez más a la peligrosa forma de ser de la sociedad.