"Where you can't reach" receives the Honorable Mention in the Official Section of the 6th edition of the Festival Nacional de Cine de Huánuco (Fenacine). Which will be held from 11 to 15 December 2019 in Huánuco, Peru.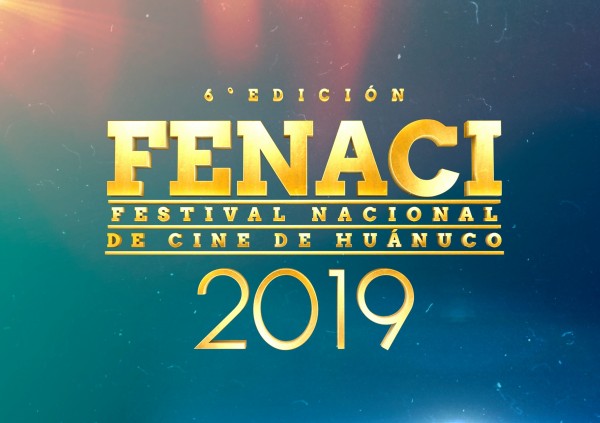 The National Film Festival of Huanuco, aims to disseminate and promote the Peruvian film industry and in general the audiovisual industry of Peru, Latin America and Europe, hosting the meeting of its various professional sectors and enhancing its national and international development.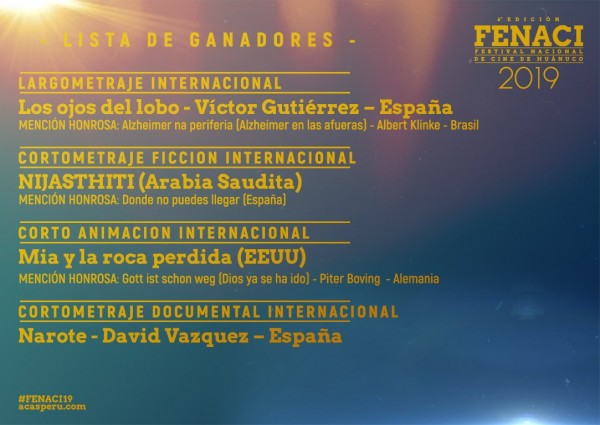 This cozy city received important personalities of the seventh art of national renown among them the actresses Mayella Lloclla, Cindy Díaz, Lisset Burga, the actors Gerardo Zamora and Alain Salinas, the directors Carlos Marín Tello, Wilfredo Medina Padilla and Jhonathan Mallma, the producer Jefry Vásquez, the film critic Gabriel Quispe, as well as students, teachers and the general public who identify with the valuable art of Peruvian cinema.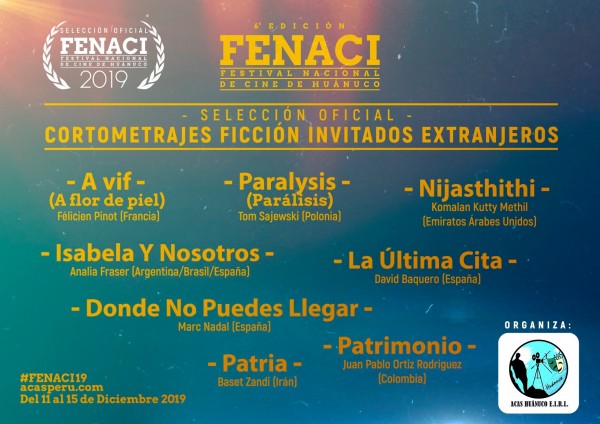 The festival brought together the artists and attendees in the prestigious Universidad Nacional Hermilio Valdizán de Huánuco. Films were screened in the following categories: National and Regional Fiction Film, Fiction and Documentary Short Films, National Documentary, University Fiction and Documentary Short Films, Foreign Guest Films and Short Films, workshops on how to make my first short film and screenplay were also held.



The following winners were selected:
Best National Fiction Film: La ultima tarde, by director Joel Calero; honorable mention: El abuelo, by director Gustavo Saavedra
Best Regional Feature Film Fiction: Mapacho, by director Carlos Marín Tello (Ucayali); Honorable Mention: El viaje macho, by director Luis Basurto (Junín)
Best National Documentary Feature: Hugo Blanco, Río Profundo, by the director: Malena Martínez; Honorable Mention: El viaje de Javier Heraud by the director Javier Corcuera

National and university short films
Best national short film fiction: Sarah, by director Romulo Sulca; honorable mention: Three by director Jazmin Mateo.
Best national documentary short film: Minka de la memoria by director Luis Cintora; honorable mention: Herencia sin culpa, by director Josué Elías Sánchez Alva.
Best university short documentary: A dinosaur called Gabriel by Christian Ñeco (Univ. Santo Toribio de Mogrovejo. Lambayeque); honorable mention: The eagle of the cyclone by the directors Gerson Arce Cueva - Giusseppe Mancilla Carrillo (Univ. Santo Toribio de Mogrovejo. Lambayeque).
Better university short film of fiction: Father of Iván Ávila of the Institute Charles Chaplin. Lima; honorable mention: And then Crisel, by director Edgar Alain Cori Palma of the Instituto Toulouse Lautrec of Lima.

International feature and short films
Best International Feature Film: Los ojos del lobo, by director Víctor Gutiérrez Alba (Spain); Honorable Mention: Alzheimer na periferia by director Albert Klinke (Brazil)
Best International Short Fiction: Nijasthiti (Saudi Arabia); Honorable Mention: Donde no puedes llegar (Spain)
Best international short animation: Mia and the Lost Rock (USA); honorable mention: Gott ist schon weg (God is already gone) by director Peter Böving (Germany).

Best International Short Documentary: Narote by David Vázquez (Spain)

It was indicated that the official awarding will be in February in the environments of the Ministry of Culture in Lima, for which the organizers of the festival ask the authorities and private companies to support this cultural activity.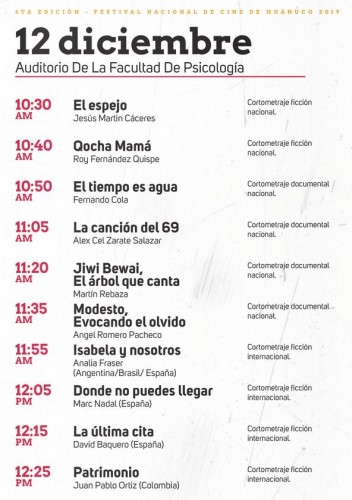 Where you can't get there>/strong>
A Turkana Films production.
Director: Marc Nadal.
Executive Producer: Félix Cárdenas.
Starring Assumpta Serna, Aida Oset, Silvia Puyol and Carlos Reyes.
Screenplay: José Cano and Marc Nadal.
Director of photography: José Luis López.
Music: Carles Cases.
Make-up: Tere Afán.
Post-production Antaviana Films.
Pictures drawn by Carmen Capel Romera.