"Where you can't reach" has won the Best Fiction Short Film Award in the international competition of the V Atlantic International Film Festival (Colombia), festival made from September 11 to 14 in which more than 1,300 short films from 91 nations were presented.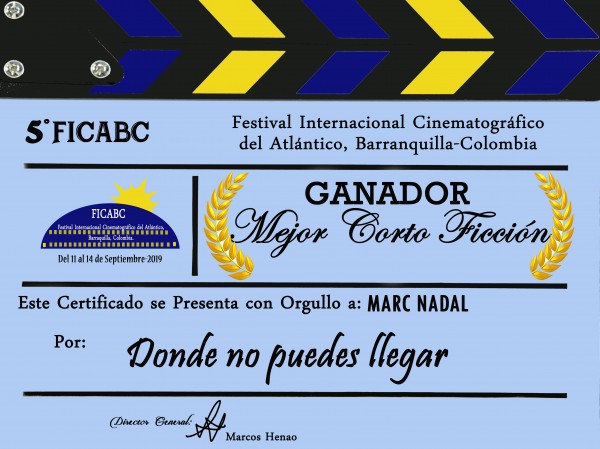 BEST FEATURE FILM: PILGRIM. BARSHAK ALEKSANDR. RUSSIAN FEDERATION
BEST DOCUMENTARY FEATURE: HAPPY PRINCES. PANOS DELIGIANNIS. GREECE
BEST FEATURE ANIMATION: IS WRITTEN. ALDIVAN TEIXEIRA TORRES. BRAZIL
BEST FICTION SHORT FILM: DONDE NO PUEDES LLEGAR. MARC NADAL. ESPAÑA
BEST DOCUMENTARY SHORT FILM: THE SISTERS. MICHAL HYTROS. POLAND
BEST SHORT FILM ANIMATION: ANACRONTE. RAÚL KOLER. ARGENTINA
BEST EXPERIMENTAL SHORT FILM: ACAIACA. AXEL SANDE. BRAZIL
BEST SHORT FILM THEME CHILDHOOD: BRACEBALL. REIHANEH MORTEZAEENIA. IRAN


The International Film Festival of the Atlantic, Barranquilla, Colombia emerges under the conception of generating a meeting place between public, filmmakers, theoreticians and other professionals of the cinematographic arts. Its purpose is to be a showcase for the dissemination of contemporary proposals of quality that address the cinematographic language, from any genre.

An international showcase of true independent cinema. Features, shorts, animations and docs from all over the world

As in its first editions, the festival will keep the residents of the Department of the Atlantic, North of Colombia, as well as of neighboring places, pending of the billboards of the cinemas and places of projection of the festival.



DONDE NO PUEDES LLEGAR
Una producción de Turkana Films.
Director: Marc Nadal.
Protagonizado por Assumpta Serna, Aida Oset, Silvia Puyol y Carlos Reyes.
Guión: José Cano y Marc Nadal.
Productor ejecutivo: Félix Cárdenas.
Director de fotografía: José Luis López.
Música: Carles Cases.
Maquillaje: Tere Afán.
Post-producción Antaviana Films.
Cuadros dibujados por Carmen Capel Romera.