'Where you can't reach' has been awarded the First Prize in the International Fiction category of the 12th International Short Film Festival of the University of İnönü > (Uluslararası İnönü Üniversitesi Kısa Film Festivali) that was developed in Turkey during the month of April 2019.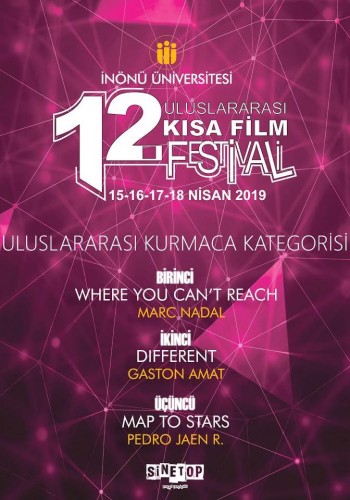 Inonu University organized by the Faculty of Communication and Film Society (SINETOP) from April 15 to 18. The films that were successful in the contest received their awards. More than 500 films were sent to the festival. Of these, only 55 films received a preliminary review and qualified for the competition.


The films that competed in the national category at the 12th International Short Film Festival of the University of İnönü were awarded the monetary prize of 23,000 Turkish lira and the honorable mention of the international categories.
The Dean of the Faculty of Communication Dr. Mehmet Önal thanked everyone who contributed to the 12th Film Festival by saying that all these efforts were to prepare a group of students for their professional life, to equip, encourage and encourage them.
The university administration, Nusret Akpolat, gave importance to activities in the cultural, artistic and social areas, as follows:
"In a sense, while developing the academic aspects of our students, we also attach importance to the participation of our students in social, cultural and artistic activities and their individual development in this regard."
The first prize in the international fiction category was
Where you can't reach, directed by Marc Nadal
.
In the category of national documentary, the first prize was awarded for the film "ödül Kite Pursuit Tok" directed by Anıl Tokur. The second prize was awarded by "Mavi Otel Bas", a film directed by Hasan Basri Özdemir. Bilen Sevda Könen directed the film "Defective yönetmen" which was third.
In the category of National Fiction, the first prize was awarded to the movie "inc Casset erk" directed by Serkan Fakılı. The second prize was awarded by Metehan Şereflioğlu. The film "Fotoğraf indeki" by Ozan Takış was the third.
DONDE NO PUEDES LLEGAR
Una producción de Turkana Films.
Director: Marc Nadal.
Protagonizado por Assumpta Serna, Aida Oset, Silvia Puyol y Carlos Reyes.
Guión: José Cano y Marc Nadal.
Director de fotografía: José Luis López.
Música: Carles Cases.
Maquillaje: Tere Afán.
Canción escrita por Aeme Navajas.
Post- producción Antaviana Films.
Cuadros dibujados por Carmen Capel Romera.
Productor ejecutivo: Félix Cárdenas.