Anna Castillo receives the Best Actress Award for her performance of Alicia in "The Human Mirror" at the 2nd edition of the International Festival CortIncontri 2016, which took place from 16 to 18 October 2016 in Italy.


Il Festival Internazionale del Cortometraggio "CORTINCONTRI" nasce da un'idea dell'associazione culturale "Non siamo santi" in collaborazione con l'associazione id volontari claun "Prislop Onlus" di Ospedaletto Euganeo.
La manifestazione ha lo scopo di offrire una vetrina di lancio per registi, sceneggiatori e tutti quanti gravitino intorno al mondo del cinema indipendente.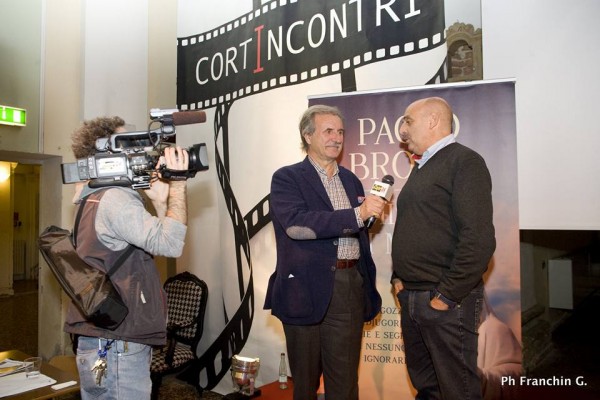 Alla sua quarda edizione, per il secondo anno consecutivo, verrà ospitato nella splendida Ex Chiesa di San Benedetto a Montagnana, uno dei borghi più belli d'Italia. Nelle edizioni precedenti ha visto la partecipazione di oltre 300 pellicole nazionali ed internazionali, tra le quali cortometraggi che poi si sono rivelati vincitori o selezionati per il David di Donatello.
Madrine dell'evento l'attrice ERIKA BLANC la quale sarà presente sabato 18 Ottobre per premiare i vincitori della kermesse. Tutte le serate inizieranno alle 21.00 presso la sala polivalente del Patronato G. Negri di Ospedaletto Euganeo (PD).
I finalisti sono:
La macchina del tempo - Labbaddia Ermete
Pianezza pulita - Inchincoli Joe
Helena - Associak
Il potere dell'oro rosso - Associak
Donde caen los hoyas - Albares Alicia
Hostal Eden - Gonzaga Manso
Il sarto dei tedeschi - Mori Cristiano
Just a change in our address - Grussu Simone
anomalo - Kimuak - Txema munoz
don miguel - Kimuak - Txema munoz
Fish - Hosseinpuor Saman
Te quiero papà - Lugigo Gabriel
Va banque - Plepp Stefan
El espejo humano - Manzanares Nadal
EL ESPEJO HUMANO
TRAILER
Based on a real story. A 17-year-old girl with social anxiety has hardly any contact with the outside world. Never leaving her home she watches the cruelties being reported on the news every day, bringing her mind closer and closer to the dangerous nature of society.